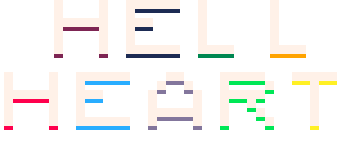 Hell Heart
avoid "bullets", but not only that, you also need to make them crash!
-awsd or arrow keys to move
-you can also drag the heart
-high scores dont save after leaving the game :c

gameplay info.
-heart: you control a little heart in a bullet hell, avoid all the deadly cubes and make them crash for more points, for all that costs!
-blue cubes: they will chase the player infinitely, so the player will need to make them crash. they can be of different sizes: big and small
-fire cube: when they crash 4 times with other cubes, they will explode, spawning a big lava cube that can destroy other cubes and the player. when a fire cube collides with another fire cube or a lava cube, they will explode instantly
-black cubes: after getting more than 17 points, black cubes will start spawning, they are the same as blue cubes, except that they will not give points upon crashing. they can only crash with other black cubes, although, they can be crashed with fire cubes
-green cube: after getting more than 24 points, a green cube will spawn and it will leave a trail of poisoned cubes that can end with the player. when crashing with blue and/or fire cubes, the green cube is going to crash(with the other cube of course) but it will eventually spawn again


Music by:
Rolemusic - Creative Commons By Attribution 3.0 License
http://freemusicarchive.org/music/Rol...
RoccoW - Creative Commons By Attribution 3.0 License
http://soundcloud.com/roccow
-made for the "Bullet Hell? Jam" hosted by Brandon JS Lea
-made by BushieBOi
Comments
Log in with itch.io to leave a comment.
nice graphics and movements but the concept of the game is basic and very used but still very funny
yea i know, i was developing another bullet hell, but i guess this one is better.
also thnks♥